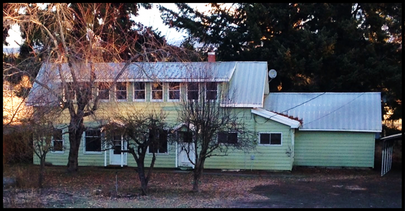 When I opened our shades this morning, and saw our new property, tears of joy immediately filled my eyes. This is too big for a little camp to do, but not too big for our God! Once again God leaves us amazed, incredulous, speechless, joyful and full of wonder!

Yesterday we bought a house right next door to our camp. Our Program Director, Micah Anderson, and his wife and four little girls (who will be moving into the house soon) have watched with great anticipation and excitement the way that God provides. This humble addition to God's grand plan leaves us amazed, once again.

In late fall, the Jacobson Property was put on the market, and in December, our Board began to pray, "Lord, show us how to purchase this property." We did nothing more because it was too far-fetched and certainly out of our reach. But God's arm is not too short! On January 9th, we met with a couple who generously offered to give $60,000 toward the purchase of the Jacobson Property! Our response was unbelief, then joy, then dancing! Another couple offered to pay the $18,600 in earnest money! And another friend offered a no-interest, six-month loan of up to $75,000 to help us as we gather pledges! Five weeks, a pile of paperwork, and $141,813 later, thirty-four families have stepped forward to help with this purchase. The only explanation as to how this could happen is a series of MIRACLES!

Here's how God works:
31 Little Mountain Road (Main Campus/Building) - purchased privately in 1996. Donated to JM in 2012!
33 Little Mountain Road (Bus Barn/Camp Store) – purchased in February of 2012!
35 Little Mountain Road (Taylor Property/Duke's home) – purchased in March of 2013!
37 Little Mountain Road (Jacobson Property/Anderson home) – purchased YESTERDAY (February 2015)!

After a prayer time, recently, Jeff said, "If nothing else, this is happening to increase our faith." If God can provide the majority of the funds in five weeks, He can bring in the balance of $43,787 in the next six months!*

"There's NOTHING our God cannot do!"

Please plan to join us for our Open House on Saturday May 23rd

*If you would like to contribute to this purchase please call Jeff at (office)
509-395-2900
or (mobile)
541-490-3055
. Gifts can be given online, by phone, mail, check, brokerage gift, etc. Six-month pledges are also gladly accepted.