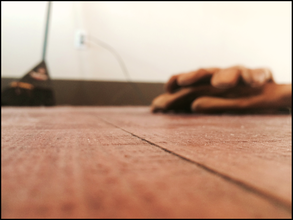 On the evening of Saturday, February 28th, I dropped into bed bone-tired and heart-happy. It's been a long time since this farm girl turned camp co-founder has had the pleasure of a day completely full of physical labor, mixed with a myriad of good things. I spent the day ripping out carpets, pulling staples, sweeping, painting a pantry, and feeding pancakes, candy, and corn dogs to eight grandchildren.

As I worked, I would periodically find my throat tight and my eyes moist with tears of unbelief and awe, at the beauty out the windows of our new Program House and the wonder that we now actually own this home. How could it be that our tiny, poor camp has been able to purchase two homes in two years (almost to the date)? I've always shied away from the term "lucky" in favor of "blessed," but I feel somehow a mixture of these two adjectives. Words just cannot adequately express the depth of my gratitude for what God has done, and the favor I feel at being included in yet another faith-enhancing miracle here at my favorite camp.

In the Bible, when Jonah finally followed God wholeheartedly, his obedience was instrumental in a whole people group choosing Jesus. May that be the story of Camp Jonah. May we keep telling these "Glory Stories" and may kids of all ages be drawn to the God that keeps acquiring and inhabiting properties along Little Mountain Road in Trout Lake, Washington!