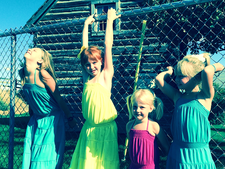 Easter has come and gone on the calendar. I didn't give up anything for Lent or serve a ham dinner on Sunday. I did mail "Peeps" to my grandkids and I even went to an egg hunt with a few grands. But, in hindsight, I think what Jeff and I did on the week prior to Easter is exactly what Jesus would have done: we helped three different people move. This is not glamorous or noteworthy for sure, but two of these were widows in their 60's and certainly could not have moved on their own.

On Saturday, it ended up that we not only needed to help one neighbor just down the street pack her U-Haul, but also, at the last-minute, put overflow items in our pickup and cargo trailer, and make a day-before-Easter, unscheduled-round-trip to Astoria. I was not excited. By then we were pretty worn out. I even kinda tried backing out of the trip. My guilt quickly got the best of me, though, and I joined my helpful husband on this drive.

As Jeff and I were chatting on the drive there and back, we realized that this was probably just what Jesus would have done—and that He had conveniently cleared our calendar ahead of time. Sometimes being the hands and feet of Jesus to our neighbors, and "sacrificing" a Saturday, is just how Jesus would like us to celebrate his ultimate, life-bringing, world-changing sacrifice.