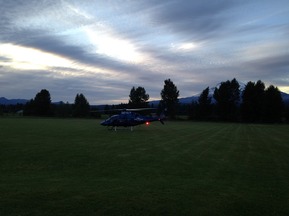 If you read my Facebook post earlier in the week, you would've sensed my excitement at the way our busy season is starting off this year. I love my job and I love the people I get to meet. I love that so many say "yes" and that we get to have fun while sharing the message of Jesus. But it is tiring.

Last night I trudged the 130 feet to our home next door. It felt like a mile. As I opened the door I greatly enjoyed the guilty pleasure of the air conditioning—and the stark quietness, in contrast with the noise and busyness of camp. I sat down in the recliner at 8:35 pm. At 8:40 my phone rang:

"There's been an accident. The leader of the camp is hurt and they are taking her to the hospital." I threw my shoes back on, tried to straighten my tired body, and began praying. I took the 130 steps much quicker this time. Within minutes, 911 was called, an ambulance was here, and a decision was made to air-lift our 30-year-old friend to a head/neck trauma unit in Portland.

As I went through the motions of background support and much prayer, my mind was tortured with the memory of exactly two years and three days ago when Thomas Wilson sustained a broken neck injury just down the street from here and now spends his days in a wheelchair.

By 11:00 pm, the fantastic news came, "She's going to be okay." That's when I allowed the tears to come. And then I began to sort through the extreme high and low emotions of just a few days this week. I'm so grateful that God is our Camp Director, that He is in control, that He is good.

The alarm came early this morning, but that was okay because I really didn't sleep much anyway. I walked next door to check on the cook in the kitchen, make the morning coffee, greet the early risers and get a read on the day ahead. All was normal, well, on schedule. Then I forced myself to take my morning walk, played a sermon on my iPhone, and began to notice the beauty around me, the glory of the Lord in full bloom! I was deeply challenged to not let the evil one creep into any part of my day, my week, my summer, my life.

Our friend is still in the hospital, camp is running smoothly, I smell dinner wafting from the kitchen, and I practice trusting the One who is in charge of every detail of my life. I'm a very blessed woman indeed.