G.I.R.L.'S CAMP
Overnight Resident Camp

Dates: July 9-14, 2017
(3:00pm Sunday through 3:00pm Friday)
Grades: Entering Fall 6th - 9th


Engaging girls through learning fun life skills and seeking Jesus together in every area of life. We desire to foster an atmosphere of community where girls feel safe to be themselves, helping them to discover who they are and what they were created for.
Girls: This is a chance for girls to be girls doing our favorite crazy "girls-only" activities in a fun, safe, nurturing community.

Activities:

Campfire - songs, stories & s'mores

Powerful speakers, daily worship, deep cabin times

* (these could get messy! Bring some clothes that you might not get clean again!)

Projects:

Fun crafts and smash books
Cost: $310 ($285 if registered by May 1st)
Discounts -
Early Bird Registration: Register by May 1st to receive $25 off!
Sibling Discount: Pay full price for the first child and each sibling will
receive a $50 discount for each Overnight Resident Camp (does not include
Day Camps)
Multiple Camp Discount: Pay full price for the first camp. Each camp
thereafter will be at a $50 discount (Overnight Resident Camps only).
---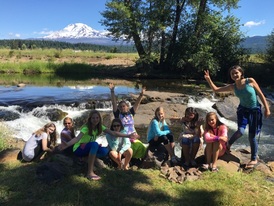 G.I.R.L.'s Camp 2016 Recap
At G.I.R.L.'s Camp (Girls In Real Life) we want to speak the truth of who our campers are in Jesus. We learned that we are Loved, Accepted, Forgiven, and Treasured by Him and because of Him. We explored the gifts and abilities given to us by a loving Father through projects and activities that speak to girls' hearts. And yes, we got a wide variety in because we appreciate that we are each made uniquely. Some activity highlights we explored included Cooking, Crafts (emoji pillow, painting art, smash books, flip-flop remake and more!), Messy Games, Cabin Times, Spa Day and the Mud Pit (yes, the mud pit!). Our goal was for the girls to go home knowing Jesus more deeply, knowing who they are in Him, and how that applies to their Real Lives.
---
---
Sponsoring a Camp
If you or your business are interested in sponsoring a camp, click the donate button below and specify in the notes the purpose of your donation. Sponsors starting at $1,000 receive recognition in camp promotional materials and a camp scholarship in their name. All sponsor donations are tax deductible. Questions, please e-mail jonah@campjonah.com