JR. ADVENTURE CAMP
Overnight Resident Camp

Dates: August 5-9, 2018
(3:00pm Sunday through 3:00pm Thursday)
Grades: Entering Fall 2nd - 6th


This is the ultimate hiking, caving, camping, exploring, climbing, ziplining, crawl through mud, get outside and play camp! (Even eat and sleep outside some) It is an epic camper/nature reunion!

Explore the forest and streams through our interactive forestry survey

Learn to read a map and compass

Discover secrets to a healthy forest

Build a camping shelter to sleep in

Zipline and climbing wall

Inflatable bounce house and bungee run

Campfires, songs, stories & s'mores

Take time every day to consider who I am and what I'm made for.

Cost:
For each of our camps, you will find three different camp prices. You get to choose the one that best fits your family's ability to pay. Please consider selecting the highest price your family is able to afford. By doing so, you'll help cover the true cost of running camp.
Please
click here
for more details.
A $50 non-refundable deposit is required when registering your campers.
Early Bird Registration Discount:
Register by May 1st to receive $25 off!
---
---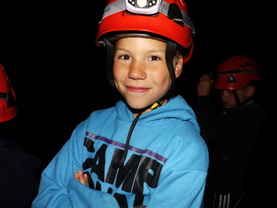 Jr. Adventure Camp Recap
This bunch of campers - always so excited and eager to get out and experience adventures! Part of the week included rotating through several other adventures - caving, climbing wall, zipline, and inner tube ditch float. Tuesday evening we moved out to our more remote Cave Creek Camp where we spent the night under the stars. It's a lot different doing camp without electricity and running water! Finally Wednesday afternoon they got to experience our traditional Eco Challenge Course. This was a race that involved map reading, teamwork and a spirit of adventure to complete. They loved the competition, the challenges at six different checkpoints, and the mud at the end.
Throughout the week we also took time each morning and evening to hear Bible stories that taught us about God's love, who God is, and telling them that He loves them and wants them to enjoy Him. We taught them about forgiveness and redemption and provided opportunities to worship God together, and we took time every day to talk about life, pray with them, and encourage them to enjoy a relationship with Jesus, and Say Yes to Him always.

---
---

Sponsoring a Camp
If you or your business are interested in sponsoring a camp, click the donate button below and specify in the notes the purpose of your donation. Sponsors starting at $1,000 receive recognition in camp promotional materials and a camp scholarship in their name. All sponsor donations are tax deductible. Questions, please e-mail jonah@campjonah.com