PRIME CAMP
Overnight Resident Camp

Dates: June 25-29, 2017
(3:00pm Sunday through 3:00pm Thursday)
Grades: Entering Fall 1st - 4th


From bouncy inflatables, to our traditional boat races, Prime Camp is filled with fun camp activities your kids will love! Solid Biblical lessons are shared through hands-on, experiential chapel sessions and group projects. Here, one-on-one attention is among our top priorities.

Build and decorate your own model boat. The race it down the creek when it's finished!
Wet and wild games
Inner tube ditch float
Inflatable bounce house
Suspenseful night games
Campfires, songs, stories & s'mores
Experiential worship gathering
Take time every day to consider who I am and what I'm made for


Cost: $250 ($225 if registered by May 1st)
Discounts -
Early Bird Registration: Register by May 1st to receive $25 off!
Sibling Discount: Pay full price for the first child and each sibling will
receive a $50 discount for each Overnight Resident Camp (does not include
Day Camps)
Multiple Camp Discount: Pay full price for the first camp. Each camp
thereafter will be at a $50 discount (Overnight Resident Camps only).

---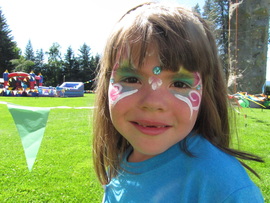 Primary Camp 2016 Recap
When you begin camp Sunday evening with a carnival, it's bound to be a good week! We always have such a blast with our youngest, primary aged campers at Primary Camp. They are so full of energy and imagination making every activity inexplicably exciting. We always enjoy hearing those little giggles and screams as the kids enjoy our classic Camp Jonah activities. Most of the kids were very trusting on the zipline – a little timid, but very trusting. The inner tube ditch float made for a nice and refreshing afternoon on those hot days. As always, our Water Madness (where campers and staff madly race around from pool to pool with very little organization, seeing how many people they can soak with water) was a camp favorite. It's a really great opportunity for free-play interaction between campers and staff. Of course the campers couldn't get their fill of field games, clinging to Cabin Leaders, camp songs, and skits. And racing their tiny little, beautifully painted wooden boat creations made for a very cheerful finale late Thursday morning.

But I think the best part of all was seeing the wonder in their eyes as they heard about God's gracious miracles and provision through the Bible stories that we told each morning and evening. We were really intentional about showing the kids who God is, and telling them that he loves them and wants them to enjoy Him. We taught them about forgiveness and redemption, we read to them from the Psalms and provided opportunities to worship God together, and we took time every day to talk about life, pray with them, and encourage them to enjoy a relationship with Jesus, and Say Yes to Him always.
---
---
Sponsoring a Camp
If you or your business are interested in sponsoring a camp, click the donate button below and specify in the notes the purpose of your donation. Sponsors starting at $1,000 receive recognition in camp promotional materials and a camp scholarship in their name. All sponsor donations are tax deductible. Questions, please e-mail jonah@campjonah.com