MAN CAMP
Overnight Resident Camp

Dates: July 8-13, 2018
(3:00pm Sunday through 3:00pm Friday)
Grades: Entering Fall 6th - 9th


Engaging guys through learning fun life skills and seeking Jesus together in every area of life. We desire to foster an atmosphere of community where guys feel safe to be themselves, helping them to discover who they are and what they were created for.

Guys: We'll spend time doing things men love (cars, tools, guns, heavy machinery) and discussing important life issues.

Activities:

Campfires, songs, stories & s'mores

Experiential worship gatherings


Do It Yourself Skills:

Home care and repair
Automotive
Metal working








Cost:
For each of our camps, you will find three different camp prices. You get to choose the one that best fits your family's ability to pay. Please consider selecting the highest price your family is able to afford. By doing so, you'll help cover the true cost of running camp.
Please
click here
for more details.
A $50 non-refundable deposit is required when registering your campers.
Early Bird Registration:
Register by May 1st to receive $25 off!
---
---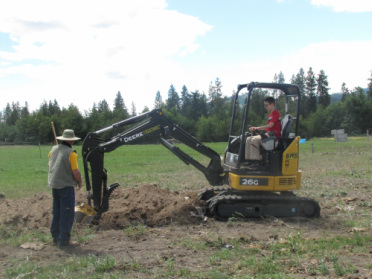 Man Camp Recap & Highlights from previous year:
One of our top priorities at Man Camp is
mentoring
our campers. We worked hard to arrange experiences where the campers get to
interact with Godly men who possess skills that can be shared with them
. We also aimed to achieve
a high ratio of adult volunteers per camper
(at least 1:4) at all times. We also weaved in a wide variety of projects and trainings which exposed the campers to a
broad range of life skills
.
Here are some of our Man Crafting highlights:
Three experienced heavy equipment operators joined us for a day to instruct the campers on the art of Track Hoe use. Together the campers dug a 600 foot long trench for an irrigation project on a local dairy farm.
We stained and assembled four 8 foot benches to use around our Creekside Campfire. We followed a modified Aldo Leopold Bench design – chosen because of its simplicity and minimal use of materials - which look sharp and support plenty of people. We plan to continue using them for a long time to come.
Four large Launcher Stands were built using wood and screws, and then decorated with spray paint and stencils creating four unique designs. Once the stands were assembled and partnered with a standard water balloon launcher we used them to launch water balloons as well as softball sized rocks. The rocks turned out to be pleasantly destructive to our target!
One of everyone's favorite projects was the PVC Blow Guns. The campers were, again, able to be creative with their gun decor' by adding a combination of spray paint, graphic printed duct tape, and solid color electrical tape. The darts for the blow guns were built from small Post-it notes and finish nails. Sorry parents – I hope you didn't end up with too many holes in your walls once your camper got home!
Of course it wouldn't be man camp without Shooting Guns! One afternoon a group of men, including law enforcement and military veterans, lead a gun safety clinic and facilitated target practice with a .22 range, and skeet shoot.
Does the word, "Baston," mean anything to you? It didn't to me either until a local fitness instructor, Kung Fu Sifu and world renowned fighting champion named Scott Dinger offered our Man Campers a lesson in Solo Baston fighting, which is a Filipino stick fighting martial art. We began our lesson by learning proper stance, then practiced several free flow patterns, and finally, after adding protective gear, we were allowed to enjoy short matches against each other. It was a ton of fun!
One more experience we were able to provide for two of our high school campers was something we called our Internship Program. These two guys basically go to job shadow three different professionals at their jobs – a Diesel Mechanic, a Handy Man, and a Vehicle Service Station Owner. It was great to be able to expose these young men to some on the job responsibilities.
In addition to these, we also taught the boys how to
replace the end of an electrical extension cord
, practiced
knife and hatchet throwing
, went
paintballing
, did some
1st Aid instruction and training
, played in the
Mudpit
, gorged on some
hearty food
, and just plain enjoyed some
quality guy time
.
---
---
Sponsoring a Camp
If you or your business are interested in sponsoring a camp, click the donate button below and specify in the notes the purpose of your donation. Sponsors starting at $1,000 receive recognition in camp promotional materials and a camp scholarship in their name. All sponsor donations are tax deductible. Questions, please e-mail jonah@campjonah.com